I remember when I first came out as gay, I wanted to read other gay writers. I wanted to listen to gay music, and wear gay t-shirts, and stitch a gay patch to my high school backpack. Gay was the thing to be, as far as I was concerned, and "gay bling" was hot currency.
Along with my proclivity for rainbows came the opinion that the lack of this dearth of gay pride was a clear indication that there was gay bigotry afoot. Certainly, if they weren't shouting slogans at the front of the Chorus Line, they were holding up "God Hates Fags" signs with the other Christianists.
This was a simple, reductive way of viewing the world, and one that provided me with a sense of both victimhood, and superiority.
That's a dangerous mix, right there.
I was reminded of that experience a few weeks back when I was scrolling through the HuffPost Religion page, looking for something remotely Pagan. Compared to WitchVox, this place was a barren desert. Search "Pagan" on the site, and you come up with a few references to New Gingrich, some pieces on Stonehenge and Beltane, and a piece on how Easter eggs have pagan roots.
I'm not hating on any of those posts, but there was a part of me that wanted something more.
In my time on Patheos, I've witnessed some amazing writing, reporting, and community dialogue taking place on the Pagan Channel blogs. On my blog alone, started as it was to be a place for me to process my own work through ADF's Dedicant Path, I've seen vibrant, respectful, meaningful dialogue taking place. We don't post here so that our ideas win out; we post here to initiate or further along the conversation. We post here to be understood, or to ask questions, or to raise a point that seems missing from the conversation. By and large, this has been a respectful, insightful process.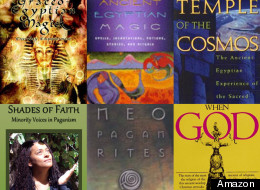 I'm happy to see that HuffPost is beginning to open up the doors for more inclusion of Pagan and polytheist expressions of religion. They published the post, Pagan Books: 27 Essential Texts about Paganism For Your Bookshelf. From the piece:
Recently HuffPost Religion put a call out to our community about books on Paganism that every Pagan and those interested in the varied strands of Paganism should read.

The result is this great list of 27 books that range from introductory to scholarly in nature and cover the entire gamut of Pagan religions — Witchcraft, Wicca, Shamanism, Asatru, Druidism, Egyptian and Hellenic.

These books grapple with issues of sexuality, tell personal stories of faith, and provide information on the various Pagan religious rites. HuffPost Religion hopes that this list will be equally valuable for those who identify as Pagans, as well as those who are interested in Paganism, both academically and as a spiritual pursuit.
Many of you contributed to this list on Facebook, under the organization of David Dashifen Kees. I'm grateful for your contributions, and the time and effort David put into this task. The list, I'm sure you'll agree, is far from conclusive. The idea that 27 books would ever cover the "entire gamut" of "Pagan religions" is likely inspiring more than one spark across the Interwebs, but come on — it's a start, no? For many looking at this list of books, the idea that there was anything to Paganism outside of Wicca (the Buffy kind) will be somewhat of a shocker.
The inclusion of more representations of Paganism on HuffPost is a step in the right direction, I think. The gay teenager in me, the one who scrolls through sites in search of Pagan Pride, is calmed for the moment. But if that teenager is ever going to grow into maturity, it may be time to become a little more proactive in the conversation, myself. If one notices that there is something missing in the world, that might just mean that they are the person to create it.
So, I submitted a post to them. And, they accepted. It's called, "How Do We Talk About Paganism?"
Do you feel like it might be possible for us to have the same quality of dialogue on HuffPost that we have on Bishop In The Grove? Do you think that this opening could provide Pagans and polytheists a chance to be better understood? I wonder what you think about this kind of representation of Paganism on mainstream sites.